Not only does biochar trap carbon when it is created, it is heating homes in Sweden and feeding cows in Lincolnshire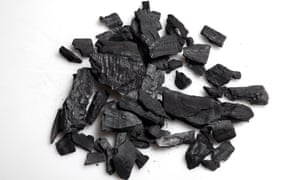 It traps carbon in the ground for centuries, boosts plant growth, provides a sustainable heat source and could even reduce methane emissions from cows. Biochar may not be a silver bullet to combating the climate emergency, but it certainly ticks a lot of boxes.
A form of charcoal created via a special chemical process, biochar is not much to look at, resembling the aftermath of a particularly good barbecue. But it is already heating homes in Stockholm, feeding cows in Lincolnshire, and nourishing trees near Loch Ness.
"When you look at the range of benefits it has, it is quite phenomenal," says Marc Redmile-Gordon, senior scientist for soil and climate change at the Royal Horticultural Society (RHS). While stressing that biochar is only part of the solution, he adds: "If we stop burning fossil fuels tomorrow, we'll still have a lot of carbon dioxide removal to be doing, and this is one of the most effective ways we can achieve that."Quick guide
Following biochar's recognition in the IPCC 2018 report, earlier this year Redmile-Gordon launched the society's first trials to see how the material could improve plant growth. He estimates planting 10-20kg of biochar in your garden could offset the carbon from a five-mile return commute in a car for a month.
Biochar is a form of charcoal produced when organic matter – for example wood, leaves or dead plants – is heated at high temperatures with little or no oxygen in a process called pyrolysis. The normal burning or decomposition of these materials would release large amounts of methane and carbon dioxide into the atmosphere. Instead, creating biochar traps this carbon in solid form for centuries; it becomes a carbon sink that can be buried underground.
This is nothing new – in Stockholm they have already developed technology to trap the heat generated in the process and put it to use, so now the focus is on what benefits biochar can bring once it is in the ground. Although results vary depending on the type of biochar and soil used, Redmile-Gordon says this stuff can "alleviate some of the stresses that come from climate change".
https://www.theguardian.com/environment/2019/nov/29/this-dark-material-the-black-alchemy-that-can-arrest-carbon-emissions?fbclid=IwAR3Wkjv2VUHfcZvWIv6NsREOkT_bmgEd-km20A25BTTrSfa_XvGb5hvTWGk